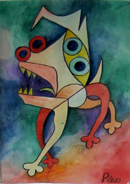 ARTIST'S STATEMENT
I co-organised two Raw Arts Festivals with the New York Arts Magazine and am still in contact with the director of World Arts Media (Tchera Niyego) to possibly co-organise and co-curate other projects...
The New York Arts Magazine have published the following references about me:
Piers Midwinter is a visionary artist and the creator/director of Raw Art Link and the legendary international Raw Arts Festivals. The websites he has created have become standard reference points and the critically acclaimed Raw Arts Festival is the first of its kind and magnitude. Upon creating the first two festivals single-handedly Piers then started collaborating with the New York Arts Magazine. His achievements have pushed the creative envelope and have made him a highly influential artist. In Midwinter's art, one comes face to face with a wide pantheon of artistic expression, ranging from dark black-humour to the highest spiritual yearning. All of which is brought to light in glorious techni-color honesty through Midwinter's highly imaginative paintings.
Raw Art Link: www.rawartlink.com
Raw Arts Festival - London 2004: www.rawartsfestival.co.uk
Raw Arts Festival - London 2005: www.raf2005.co.uk
Raw Arts Festival - Valencia 2006: www.raf2006.com
Raw Arts Festival - New York 2007: www.raf2007.com

JULY 20- AUGUST 20, '07 Beijing, China, June 15, 2007,
NY Arts Beijing Space is pleased to present Piers Midwinter with an inter-active work-in-progress project. Piers Midwinter will be the artist-in-residence to creating and curating a "fun" project, that anyone can do, based around automatic writing which will be slightly different from "Automatic writing" in the traditional way we understand it as he aims to give a focus to the exhibition at the end of the day. In essence, the British artist and creator of "Raw Arts Festivals" will ask participants, (yes he is planning to create an interactive event indeed) to start 'doodling' on either paper or canvas etc. Participants will choose any subject matter they wish to draw e.g. a flying hippopotamus colored with pink and yellow polka-dots! Katarzyna Chocian is the guest artist-in-residency in this project. Chocian graduated from the I.J Paderewski Music College in Poland and continued her violin and music studies with a Professor at The Royal Academy of Music in London. She obtained a Diploma of Fellowship at The London College of Music and a Licentiate Diploma in Music Education at The Trinity College London. She has organized several music master classes and directed music events. She currently teaches at the British School in Poland and is also a self-taught artist.
For more information on this exhibition please call us at 86-10-84573298/ 86-1343 951 8846 or contact us at www.nyartsbeijing.com.

The artist Piers Midwinter is the creator and director of Raw Art Link and the Raw Arts Festivals. He believes that it's important to stay true to oneself as an artist and that Raw Art (Outsider/Self-taught/Visionary art etc.) comes closest to expressing this. Midwinter has been interested in Raw Art since 1989 and in 2001 he set up Raw Art Link in order to create a?website which contained links to all the things that interested him. It was probably the first web portal dedicated to such a?task. Since then it has become one of the world's premier Raw Art websites leading to setting up events like the first Raw Arts Festival in 2004 (http://www.rawartsfestival.co.uk) that became London's largest and best International exhibition of self-taught art mounted to date. Midwinter is currently planning a 2005 Raw Arts Festival in London (http://www.raf2005.co.uk).
Links http://www.rawartlink.com/
Yahoo Business News recently published this article about my upcoming festival in Los Angeles:
The Legendary Raw Arts Festival Heads to Los Angeles for March 2008 Wednesday January 9, 8:23 am ET The world's most prestigious non-mainstream arts festival ... IPSWICH, England, Jan. 9 /PRNewswire/ --
The Raw Arts Festival is dedicated to exhibiting artworks by non-mainstream artists. These artists can be Outsider, Folk, Raw or Self-taught. Over the years the festival has exhibited a wide variety of non-mainstream art, such as works created by homeless people, adults with autism and also famous well established Outsider/Raw artists etc.
ADVERTISEMENT
The Festival has been held annually since August 2004, when the first festival exhibited in London at the Candid Arts Trust in a massive 50,000 square foot gallery located in the heart of London just north of Kings Cross in Angel. The Festival has come along way since then. It has exhibited at the Candid Arts Trust again in 2005, Valencia, Spain in October 2006 and New York, USA in January 2007. In that time, the festival has succeeded in gaining vast quantities of publicity from many of the major publications world-wide including Art Fairs International, Metro, New York Arts Magazine, Raw Vision, The Times, Yahoo news and many others. It has gained widespread international critical acclaim. The first two festivals have been recognized as being 'London's largest and best International exhibition of self-taught art mounted to date.' The 2006 Festival held in Valencia, Spain was referenced as being 'Spain's first non-mainstream art festival' and the Festival held in New York was referenced as being the 'First major non- mainstream arts Festival to offer a fresh alternative to the New York Outsider Art Fair.'


Many of the artists who have exhibited at the Festival have now become well-established artists in their own right. The Los Angeles festival is yet again attracting applications from world-class raw artists. Dover Abrams (USA) is an artist and co-curator of the infamous Infusion Gallery in Los Angeles; Akiko Kitami (USA) has exhibited her art works at the prestigious Ward Nasse Gallery in New York; Franco Meloni (Italy) has exhibited his artworks worldwide and is due for a stunning solo exhibition at the Broadway Gallery in New York; and Piers Midwinter (UK) -- the creator and director of the Raw Arts Festival -- has exhibited his artworks worldwide and has recently been an artist in residence for a whole month in Beijing, China, at the space owned by the New York Arts Magazine. Ben Reche (UK) and Brian Steimel (USA) have also exhibited their artworks worldwide. Brian has participated in the Carnival of Samhain and Ben has artworks featured on the Saatchi on-line website. All of these artists have exhibited previously with the Raw Arts Festival and have received widespread publicity as a result.

The Festival is also exhibiting some exciting upcoming artists such as Beth Cornell (USA), who has widely exhibited her art in Arizona, USA. Beth grew up with Folk Art all around her in Pennsylvania and has thus been heavily influenced by self-taught art. Los Angeles is an exciting place for the Festival to travel too. It is well known as being a major centre for Outsider, Folk, Raw, Surrealist and Low brow art, etc. The extraordinary Watts Towers created by Simon Rodia are located here. In 1992, the Los Angeles County Museum of Art presented a groundbreaking exhibition titled 'Parallel Visions.' This traced the connections between modern artists and their self-taught colleagues. It played a major role in establishing the field of 'Outsider' art as it exists today. Los Angeles also plays host to a number of organizations dedicated to helping non-mainstream artists such as the 'International House of Blues Foundation' and 'The Los Angeles Craft and Folk Art Museum.'

The Raw Arts Festival 2008 aims to continue the development of raw art in Los Angeles. In stark contrast to many other Outsider/Raw art exhibitions which are often organized by art galleries, the Raw Arts Festival offers artists from all over the world the most prestigious venue for exhibiting there art without 'strings attached.' Artists are thus free and this has resulted in some truly glorious art being exhibited and a truly electric atmosphere being created at the legendary private views. Many artists have traveled world-wide just to participate in the proceedings and to take away with them memories of meeting other great artists etc. The traveling nature of the Festival has ensured that it does not become institutionalized. More than any other Festival worldwide, the Raw Arts Festival stays true to its free, spontaneous roots and thus pays homage to the artists that flock to it. This year, the Festival will exhibit at the Infusion Gallery, which is located in downtown Los Angeles.

The Gallery is the brainchild of artist/curator Dover Abrams and his wife/artist/gallery coordinator Jill. It is a reasonably large space located on Los Angeles' Gallery Row. As always, the festival has guaranteed widespread publicity for the upcoming show in March. The show will last for one month. It thus provides visitors to Los Angeles a good opportunity to see something fresh and to invest in some highly valuable art.
The Infusion Gallery is located at: 719 South Spring Street, Los Angeles, California 90014, USA.
The show will exhibit from March 2nd to March 26th 2008.
The gallery is open from Tuesday through to Saturday, between 12-6 p.m.
For information on the Infusion gallery, please visit: www.infusiongallery.com For information on the festival and how to apply, please send an e-mail to: rawartsfestival@yahoo.co.uk
Information on my latest Raw Arts Festival which will be held in Los Angeles can be found at: www.rawartsfestival.co.uk
Raw Arts Festival 2008
The Raw Arts Festival has been held annually for the past 4 years in London (twice), Valencia and New York. It has grown each year in size and popularity, and 2008 is proving to be no different. Find out all about the upcoming festival in Los Angeles by following the links in the menu above.
I am currently earning a living teaching ICT (I am also in charge of the ICT department) at the British School in Warsaw, Poland. You can my mugshot at: http://www.thebritishschool.pl/index.php?section=46 Source: Raw Arts Festival Piers Midwinter, G.C.G.I, B.A (Hons), P.G.C.E (Post 16). Piers studied Fine Art at City and Guilds of London Art School, gaining a Foundation and a Graduate-ship from the City and Guilds Institute. He has a BA (Hons) degree from Middlesex University in Art Practice and the Community, Information Technology and Education Studies. He was been awarded prizes at Art school and at University for Excellence in the Local Community. In 2000, he became a qualified teacher gaining a PGCE (post 16) in ICT from the Institute of Education. In July 2007, he became qualified to teach the ITGS International Baccalaureate. He has had over 5 year's employment in the South East of England teaching Art and ICT. In his spare time, he has collaborated with the New York Arts magazine to mount international arts festivals. Piers has been at the British School since April 2007.